Let's start with a fact: kids love animals! That's why playing animal games for kids guarantees lots of fun and laughter. 🐣
The good news is there are tons of animal-themed games for kids and even activities. Some of those free animal games are just made for entertainment, but there are ones that aim to improve kids' physical and cognitive skills.
Here is the most comprehensive list of the best animal games for kids!
Online Animal Games for Kids
Online animal games for kids are practical solutions to turn a dull day into a joyful one. Playing Free animal games for kids makes them enjoy and boosts their memory, attention, and counting skills!
Do you know that on MentalUP, you can find 150+ animal games for kids? 😻
That's right! Furthermore, these games are not just for fun. They all support kids' cognitive skills like memory, attention, logic, visual intelligence, and language skills. 👏
Because these gamified exercises are developed by academicians, pedagogues, and game designers, kids love to play and learn with them! 🧑‍🏫✨
Boost your kid's academic success with the most entertaining and educational games of MentalUP! 🏆🎯
Animal Games and Activities for Kids
Kids want to learn about animals naturally. They enjoy imitating animals' mimics and movements as well as sounding like them.
There are tons of fun animal games for kids that can meet their expectations of having fun and learning interesting facts about the animal world!
1. Who Am I?
Here is one of the easy animal games for kids for little ones! This game should find a place on your list as one of the best preschool animal activities too.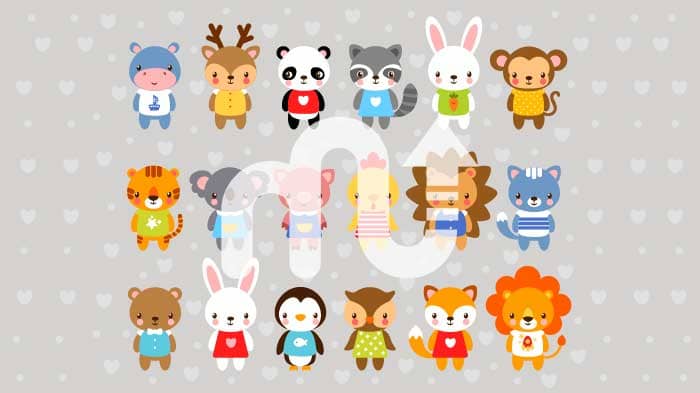 Cut some animal pictures or just write animal names on different papers.
When kids come, tape those papers to their backs. No one should tell each other which animals they are.
Randomly choose the first player for the game to start.
Make other kids see which animal he/she has.
The first player should ask these kinds of questions;


Do I fly?
Do I swim?
Do I climb trees? etc.

According to the other kids' answers, the first player should make a guess when he/she feels sure about the animal.
You can choose easy animals like a monkey, bird, fish, etc., for a simple animal activity for preschoolers. You can choose more complicated animals with different acts for older ones, like a crocodile, duck, snake, etc.
2. MentalUP Animal Games for Kids
MentalUP offers 150+ learning games that include animal games for kids of all ages! From preschoolers to grade 8, all can find the most educational and fun animal games for kids according to their level.
Classifying animals, counting animals, or animal puzzles... Various animal games on MentalUP improve kids' attention, concentration, memory, logic, visual, and verbal intelligence skills!
The advantages of using MentalUP are endless! 🤩
The multi-award-winning app is designed for kids and doesn't contain harmful content. 🥳
No violence, no ads. It's completely kid-safe! 👨‍👩‍👧‍👦
On MentalUP, your kids only experience playing cute animal games, developing cognitive skills, and learning with fun. 🐣
3. Animal Parade
This game is an excellent choice to make small kids learn about animals, and older kids discover new animals and their sounds!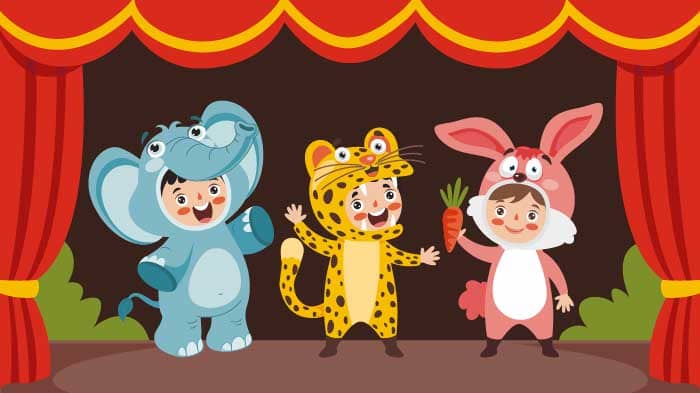 Make children form a circle and choose one of them as a leader.
The leader will be charged with the difficulty of animals according to the kids' age group.
The leader says a kid's name and an animal's name.
The chosen kid should imitate that animal's sounds and acts.
After all these kids play the game, they make a line for the Animal Parade led by the leader.
4. Animal Buddies
Do you need some ice breaker games for kids? This game is just what you look for to make kids best friends!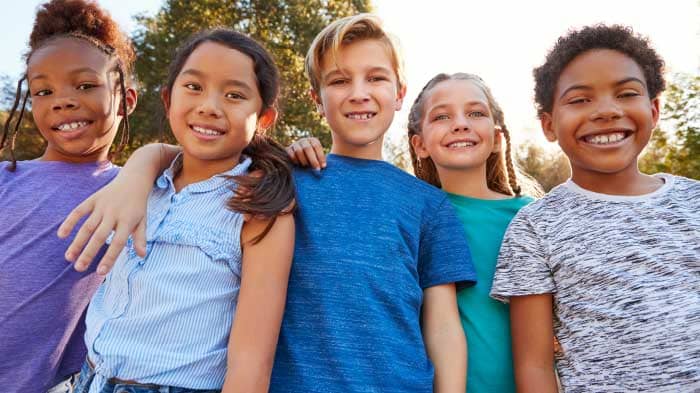 Make an animal list and whisper an animal's name to each kid's ears.
After that, tell kids that everyone has an "animal buddy." Their task is to find the same animal buddy by asking the correct questions.
These questions should be "yes/no questions" similar to the game above, Who Am I.
At the end of the time you set, all kids should sit near the other kid they think are animal buddies
Help kids figure their partner out with some clues if they can't find their buddies by themselves.
5. Animal Sounds
Finding animal babies games is hard for parents because even though there are some animal activities for preschoolers, most are unsuitable for babies' and toddlers' levels. But Animal Sounds is a great learning game for toddlers' playdates!
Make an animal list and assign one of them to the kids by whispering their ears.
Be sure that all kids' animals have a pair because the game's goal is to find the same animal as yours.
Now tell them to make the sounds of the animal they've been told.
After that, all they need to do is to find the same animal with them by listening to sounds!
6. Printable Animal Games
Discovering printable animal games offers so much fun besides improving kids' attention and visual intelligence skills.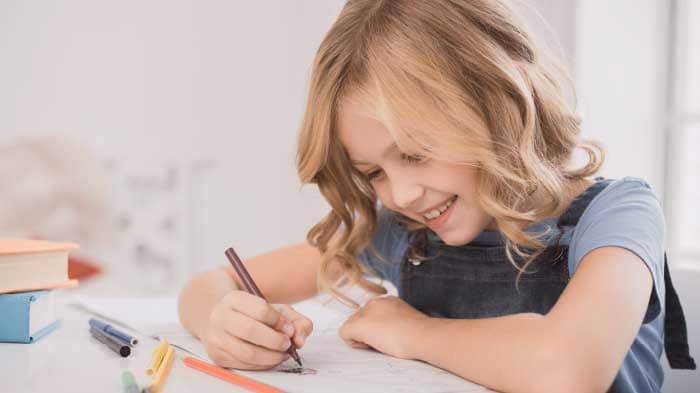 Kids of all ages can benefit from MentalUP printable worksheets that include hundreds of animal games!
Animal Gym Games for Kids
Playing animal games for kids can offer more than just fun! We've collected together the best animal games that can be considered gymnastics games. These games especially should be played at gyms, classrooms, or outside.
1. Barnyard Gym Game
It's time to search for some candies! Who could say no to an animal activity for preschoolers and older that includes candies?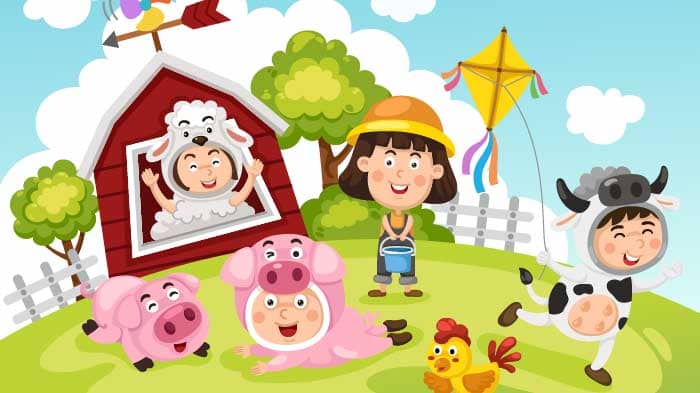 Hide some candies around the gym or an outside playground.
Divide kids into three or four groups. Each group will be represented by an animal's sound, like meow, bark, oink, etc.
One kid from each group will be "the animal trainer," who carries a plastic bowl.
To play this game, all the group members sniff out the candies to find them.
Everyone can search for candies, but only the animal trainers can pick them up and put them in the team cup.
If an animal finds a candy, he/she should make his/her group's animal sound until the animal trainer comes and picks the candy.
The winner group will be the one who has the most candies.
Don't forget to take all the candies at the end and distribute them evenly!
2. MentalUP Animal Gym Games
Do you know that MentalUP offers 240+ pe games for kids? In these sections, there are 4 main categories of workout games for kids: balance, strength, cardio, and fun games.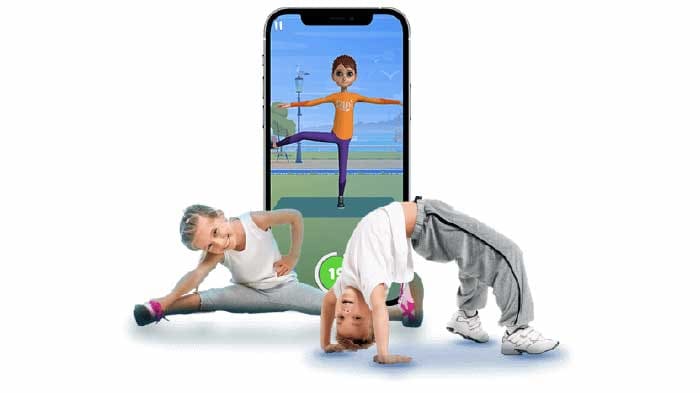 Select fun games to reach out to the best animal games for kids! Here are some exercises that kids can play as animal games for kids in the classroom, gym, or anywhere:
1. Monkey
2. Butterfly
3. Frog
4. Lion
We know that you want more animal activities!
Let's download MentalUP, and discover all the exercises for both the brain and body!
3. Run Rabbit Run
Here is one of the most entertaining animal games for kids! Run Rabbit Run is among the most popular classical strategy games for kids that even preschoolers can easily play and enjoy.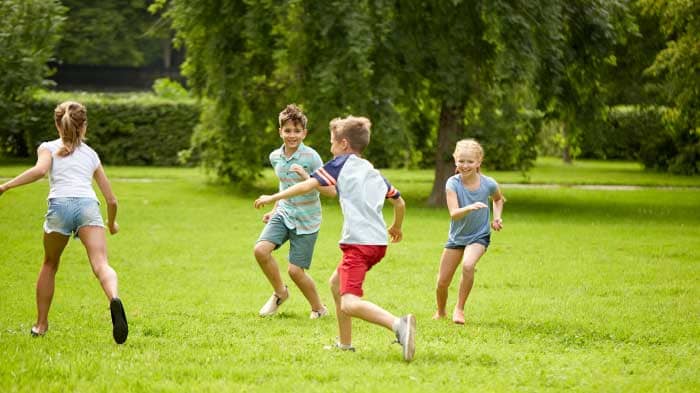 Divide kids into 2 groups, rabbits and foxes, and choose one of them from each group as Captain Rabbit and Captain Fox.
Select a finish line as the rabbits' home.
Foxes stand all over the playground randomly.
Captain Rabbit and his/her rabbits take a walk around the playground.
When Captain Fox says, "Run, Rabbit Run," rabbits start to run and return to their home without being tagged.
The tagged rabbits become foxes.
The game continues until there is no rabbit.
4. Chicken Hunter
Chicken Hunter is one of the easy animal games for kids that they can play at the gym or any playground.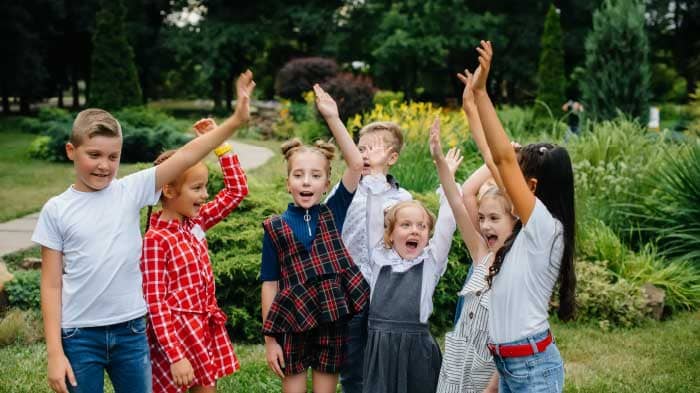 Choose 2 hunters (taggers) and 2 helpers with the rubber chickens.
The hunters run around and tag the kids. The tagged kids must be frozen.
The helpers also run around and unfreeze the frozen ones by touching them with the rubber chicken.
After a few minutes, switch the roles of hunters and helpers.
5. Animal Race Game
As we all know, kids love to race as much as they love playing animal games! That's the reason that preschoolers especially enjoy Animal Race Game.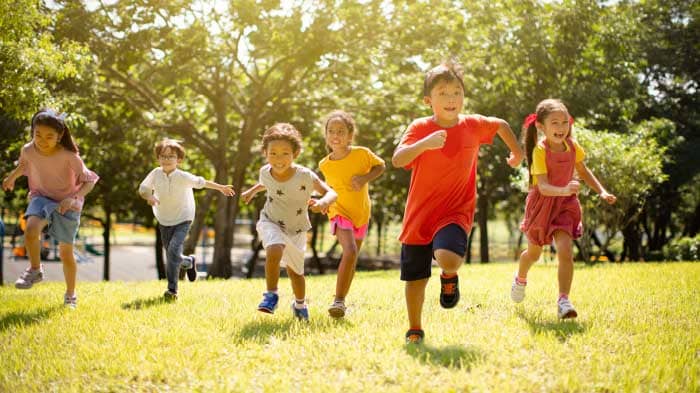 Write random animal names on small pieces of paper and let the children draw lots.
Written animals should have different speeds and moves for a funnier game experience, like turtle, cheetah, rabbit, bird, etc.
Kids will stand at the starting point with the character of their animal.
With your mark, the race begins! Every kid runs according to their animal and with their signature moves.
Repeat the game at least 3 times to be sure all of them have exercised enough.
Now you know the best animal games for kids! From learning animals to acting like animals, all these animal games and activities are excellent exercises for brain and body development. Choose one of them, and let the fun begin!
Here is one of the best features that MentalUP offers: detailed analyzing tools! 📊
As we all know, kids are constantly developing, and sometimes it's hard to determine which skills are stronger and which need to be supported. 📈
On MentalUP, you can track your kids' performance with 5 different analyzing tools! The most important part of the analysis is showing the results by comparing them with your kid's peers. 🎯
No more worries about if your kids move enough or play educational games enough. 🧠👟
One app for both! 🥳✨