You may think the games cannot be defined as girl games and boy games, and that is partly true. Still, families can observe their daughters and sons tend to play different games than each other from time to time.
MentalUP offers the best learning games for girls, which are developed by academicians, pedagogues, and game designers!
Most of the games are quite engaging for both genders, but some are especially interesting for girls. Here are the most beneficial learning games for girls, tested and approved by millions of parents!
Fun Learning Games for Girls To Play Together
If you want your daughter to have a good time, try these free learning games for girls! These exercises are specially designed for girls and aim to maximize several abilities of kids that will be necessary for their lives, such as attention and reasoning.
You can challenge your daughter to play these games one by one and see who will get the highest score. MentalUP offers so much fun for kindergarteners to adults!
Best Educational Games for Girls
Finding online educational games for girls is essential. All families are aware of how much time their kids spend online; that's why they want their kids to have more quality time by using technology.
MentalUP features free educational games for girls which are beneficial, engaging, and based on science. Here are the most favorite free learning games for young girls and their parents:
10 Entertaining Learning Activities for Girls
These fun learning activities for girls are also quite beneficial for boys. Still, overall, girls are more willing to play with them. That's why we've compiled the best learning games for little girls.
You can feel free to add new details to these activities or ask your daughter to make them customized as she wishes. Girls will consider this as another great game; we promise it!
1. Practice Your Girls' Storytelling Skills
Which girl doesn't want to live in a fairytale? A magical world is full of unicorns and princesses… It's a great starting point for her to write a story!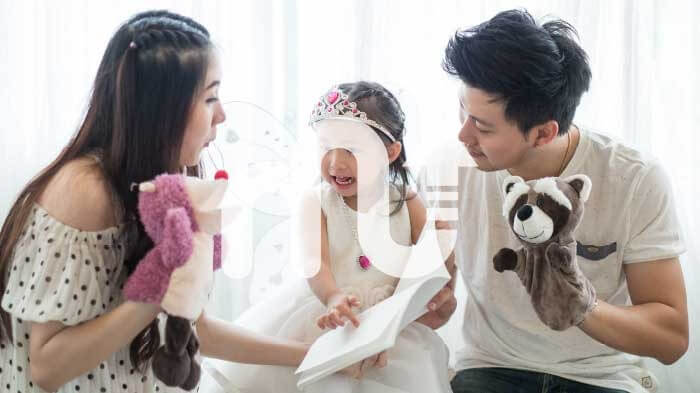 Offer your kid to write a story together. That story can be related to anything, real or surreal, but girls generally feel excited to think about a fairytale. To make this activity more effortless, you can ask specific questions to lead her.
Where is this magical world?
Do there any animals live that we know, or full of dragons, unicorns, etc.?
At which date the story will begin, etc.
If your daughter already tends to storytelling and has a high verbal intelligence, you don't need to direct her, but generally, these kinds of questions are quite helpful for the beginning. Then, both of you can spice it up with lots of details. Use your imagination and create the best fairytale together!
In step 2, you can write the whole story in a notebook and refine the storyline if you want. That step is not suitable as one of the kindergarten learning games for girls, but you can help them note the story anyway or let them draw it!
2. Do Scientific Experiments Together
She can be a scientist someday, so today is an excellent time to discover her secret abilities! Doing science experiments is a great way to do that because some kids are really interested in new experiences, and their curiosity can be exposed more with every single experiment.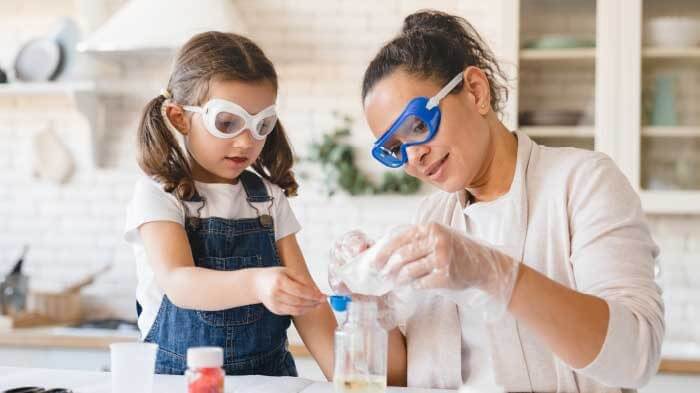 This activity is quite popular as one of the educational games for 5-year-old girls and older ones. You can use it when you need games to play with kindergartners. Of course help of the parents is essential for most of them, so you can observe your daughter more and be there in a most supportive way.
How to Make a Lava Lamp?
Here is the explanation of making a Lava Lamp, one of the best learning games for girls, as a fascinating experiment.
You'll need:
A plastic bottle (must be clean),
Some water,
Vegetable oils (mineral oil also can be used),
Fizzing tablets,
Food coloring.
If you follow these instructions below, it's easy-peasy to make a lava lamp!
Fill up the bottle with water (1/4th will be enough).
Pour the oil into the bottle. Wait until water and oil separate.
Add some food coloring drops and observe how the drops go with oil and water.
Ready to bubbles! Take your fizzing tablet and break it in half. Then, drop it into the bottle.
Get a flashlight and turn off the lights. Add the other half of the fizzing tablet and use a flashlight through the lava lamp when it bubbles!
3. DIY Time Capsule
If you are looking for interactive and learning toys or games for girls, creating a time capsule is the best choice! This one is among the most creative activities for kids.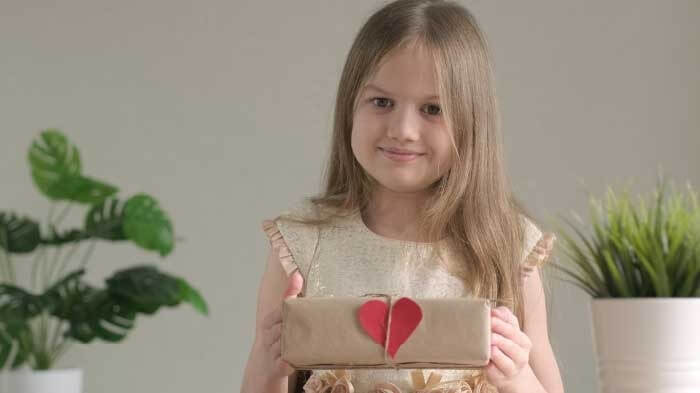 In this activity, you can collect all the objects you care together. Some tickets, a napkin from your favorite restaurant, family photographs, letters, your daughter's favorite toys, etc.
You can set a date to open it, like one year later, and hide the capsule until its time comes. For making this activity more educational, you can ask your kid to write about the list of books she reads and the books she wants to read in 1 year.
You can set your own rules to personalize this activity!
4. Make Multiplication Fun with MentalUP
Let's face it; most children think math is hard. But you can make math so much easier to understand and more interesting with MentalUP! Your children can use fun Kangaroo Math problems, gamified geometry exercises, math riddles, and much more when they are studying, thanks to MentalUP: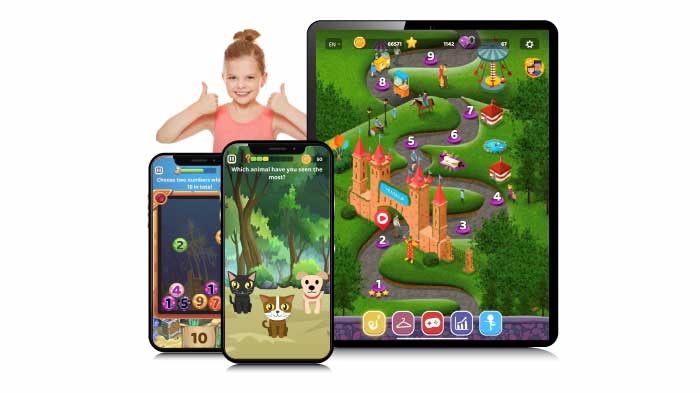 MentalUP offers the best math games, even number learning games for little girls or elders. It's completely ad-free and child-safe, so parents love MentalUP as much as their kids!
You can discover the best gamified exercises of MentalUP, and boost your girl's school performance while having so much fun. 🥳
Academicians and pedagogues design all the games; that's why it has a scientific base. 🥰🎓
Be ready for your girl to become a big fan of math games with MentalUP! 💯
5. Talk about Other Countries and Cultures
You can set a day to learn about different countries and cultures! Each week, one family member can create a slideshow about different cultures and their most interesting and funny traditions.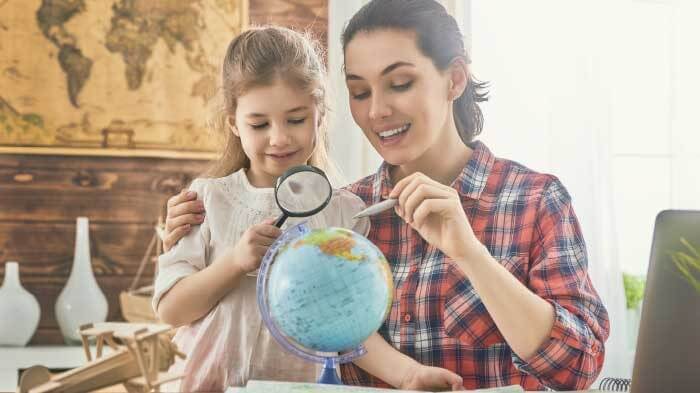 In this way, your girl can realize how many things to discover in the world! This activity can support her to be more curious about other cultures and more open-minded about the differences.
Plus, this learning game is suitable for both kids and adults! You will be surprised how much you need to know when you prepare your own slideshow. It makes that activity one of the great learning games for 8 year old girls and elders.
6. Play Backyard Spelling Game
Who loves to play Scrabble-kind games? It can look more suitable for older girls when you think about it at first, but you can make these word games easy to play for every age! Don't forget that these kinds of brain balancing exercises also improve your kids' language skills and expand their vocabulary!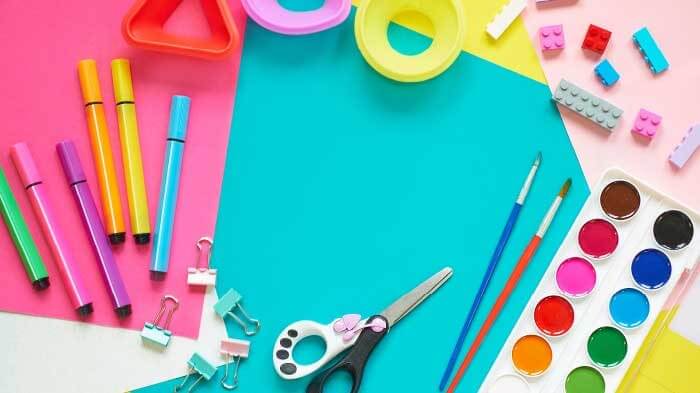 As one of the fun learning games for 7 year old girls and older, you need to prepare DIY letter pieces for this activity.
You'll need:
Enough amount of cardboard for the 72-pieces game set,
Ruler for cutting them as squares,
Colorful Pens to write the letters on squares.
This game can be played in several ways. If your daughter is big enough to understand the rules of Scrabble, you can give a number to each letter. But in this case, we suggest playing without numbers for playing easily.
Stack the letters facedown and let each player pick ten of them.
The first player should write a word by using these letters and pick new letters as many as she used.
If a player cannot write any word or feel confused, she can change her letters.
The next player must write a word connected with the first one's letter.
The game ends when the letters run out, or no one can write a new word.
The player who has the fewest letter wins.
7. Practice Calligraphy
Maybe your daughter has never heard about it, but Calligraphy is an art form of writing.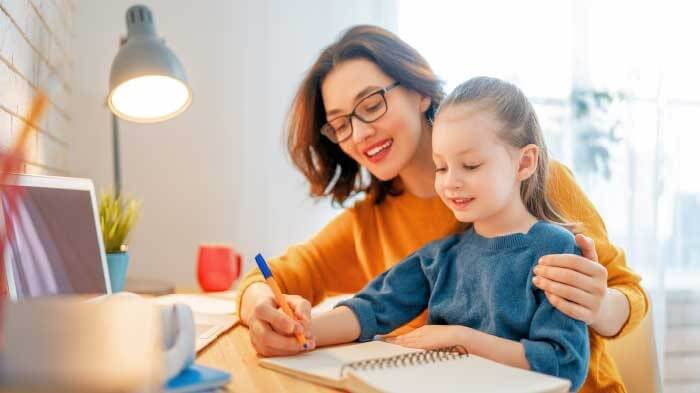 We all live in a technological world, and writing arts are not a huge part of our daily lives. That's why knowing what they are and how to do it is nice to know for future generations.
You can teach your daughter how to write calligraphic letters in different forms. For advanced levels, you can consider checking an online course together.
8. Watch Documentaries Together
Who wouldn't want to travel all around the world, discover the most interesting animals, or get lost at the deepest sides of space?
Watching a documentary is the easiest way of doing all of these!
Choose a topic together with your daughter. To make this activity one of the best learning games for girls, quiz each other when the documentary ends.
To do that, both you and your daughter can take notes when you watch the documentary. Here is the best idea, you can present a notebook to her for her documentary notes!
9. Learn a New Language
There is no need to move to a different country to speak a new language! As one of the most beneficial learning games for girls, you can start to learn a new language together.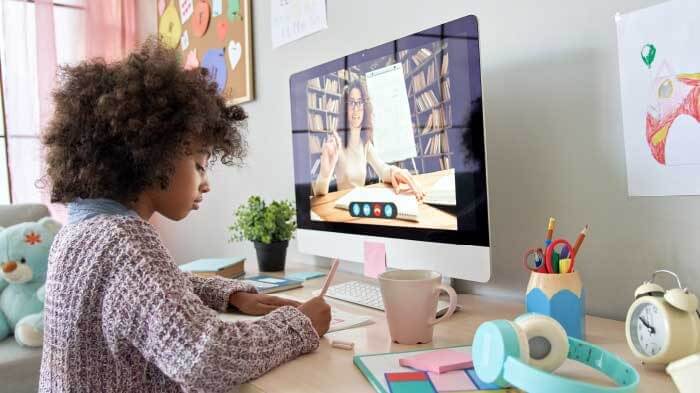 The language you choose can be a completely foreign language that no parents know. You can use a child-friendly app to learn the basics of the new language, then try to speak that language in the home as a whole family! This activity is one of the best learning games for 9-year-olds and elder girls.
10. Play Tangram Puzzles Together
Tangram is a very popular, ancient game that all children and adults love to play.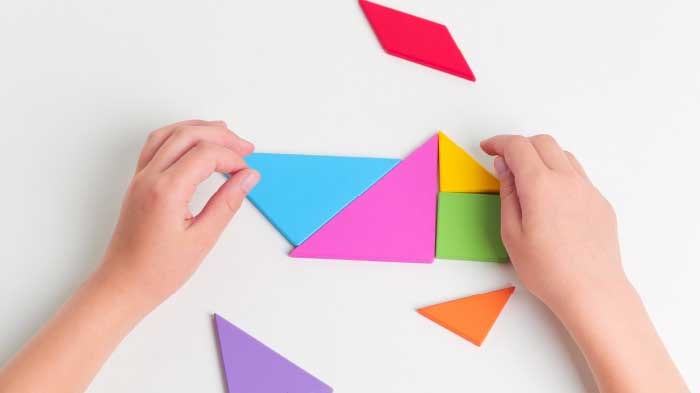 With only 7 Tangram pieces, your daughter can create countless shapes like animals, numbers, objects, etc., by challenging her mind and visual attention.
You can buy a Tangram puzzle set, or better, play Tangram puzzles on MentalUP besides 150+ learning games for girls!
Millions of families trust MentalUP for their daughters to play hundreds of learning games safely. 👨‍👩‍👧
It's a wonderful time to download MentalUP, the award-winning app, to make spending time with technology beneficial. 📲 After your daughter plays some gamified exercises, you can check her progress with detailed performance tools. 📊
Determine her strengths and need-to-improve areas, then keep using MentalUP for maximum improvement! 🚀✨
These were the most popular and beneficial learning activities for girls! Are you ready to try one of them? Select the one you like, then follow the instructions with your daughter. Having fun and learning at the same time is that easy!