Interactive letter recognition games, DIY letter recognition activities, letter sound games… There are tons of options when it comes to teaching letter identification to our little ones. But, how would you know which one is the best?
Top Online Letter Recognition Games
To save you from trouble, we listed the most beneficial and fun games and activities that both you and your children will love! You can choose games based on whether your child has visual learning, kinesthetic learning, reading/writing learning, or auditory learning styles.
MentalUP is an interactive education platform that helps your children learn letter recognition through various fun games. It is important to remember that MentalUP is one of the best alphabet apps for kids.
You can set the difficulty levels depending on your children's age and track your progress to achieve more productivity. As MentalUP has a user base of 10+ million users worldwide, you can also compare your children's results with their peers.
Letter Recognition Activities for Preschoolers
Letter recognition activities are both entertaining and educational when it comes to teaching your children their ABCs. Therefore, here are some of the most popular DIY letter recognition games and tactile letter identification activities for toddlers, preschoolers and kindergarteners.
Sensory Activities
Sensory activities for letter identification are very helpful to teach your children the alphabet! Here are three easy and beneficial hands-on letter recognition games for preschoolers and kindergarteners.
1. Shaving Cream Alphabet
Perhaps this is one of the easiest of pre k letter recognition activities because you most likely have all the materials needed for them at home.
Materials
Shaving cream
Baking sheets
How to Play
First, spray shaving cream on a baking sheet and ask your children to spread it out evenly with their hands.
Show your children how to write letters, numbers, or shapes on their tray by using their index finger as a "pencil". If you see necessary, guide their hand with yours.
You can "erase" your work by simply smoothing out the shaving cream and start again with another letter!
This activity helps children learn how to write letters while building proper motor skills, which can later on make it easier to replicate the motions with a pencil and with spelling.
2. Play-dough Letters
Here's another fun yet beneficial activity! All you need is some colorful play-dough!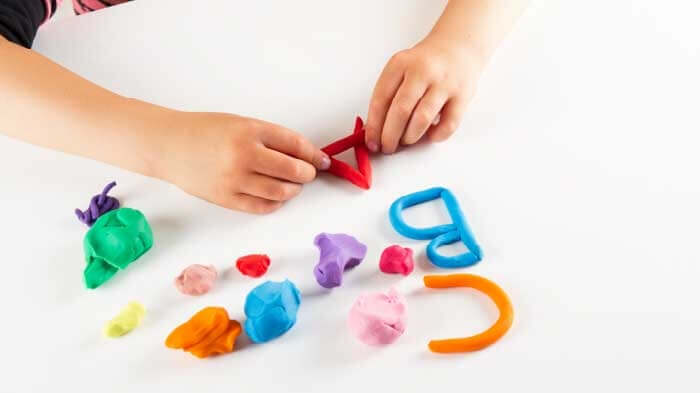 Materials
How to Play
Pick out your children's favorite colors.
Start shaping those letters!
You can use this activity to teach lowercase and uppercase letters or their name initials.
Children build muscle memory as they touch and shape play-dough into letters. This can make writing easier for them in the future.
3. Alphabet Posters
Are you bored of one-time-only DIY projects? Then this one is perfect for you. Create these posters as part of your letter identification games and then use them for spelling activities or even as decoration.
Materials
Poster or foam core board
Rectangular construction paper
Velcro
Scissors
Marker
Child-safe glue
Dry pasta, beans, yarn, buttons, pom poms, and more to decorate!
How to Play
Have your child draw a letter on each construction paper (or do it for them depending on their age).
Ask your child to glue the materials they want along the lines of each drawn letter.
Once the glue has dried, it's time to place the Velcro.
Place the rough Velcro side on the back of the construction paper letter and the soft Velcro side on the poster or foam core board. The Velcro will help your children stick the construction papers on to the board.
When all letters are complete, have your child place each letter in alphabetical order on the poster board. Assist them if they need help.
You can later use these posters to form words.
MentalUP offers the best games to support letter recognition, develop proper motor skills, enhance vocabulary, and raise letter-sound awareness.
Discover how your children can benefit from MentalUP's scientific-based games!
DIY Printable Activities
Printables are one of the fastest and easiest ways of introducing letter writing games to your children. Feel free to download our free printables and enjoy!
1. Connect the Dots
All your children have to do is connect the dots in their numerical order to create letters. So print now and start to play!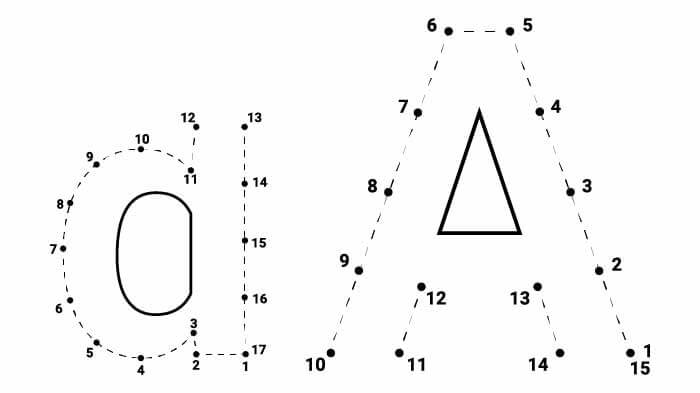 This activity will not only promote proper motor skills and build letter recognition, but it will also help children build numerical recognition.
2. Trace & Color Letters
Tracing and coloring might be children's favorite activities through great letter tracing game printables. Why not use it to teach children their ABCs!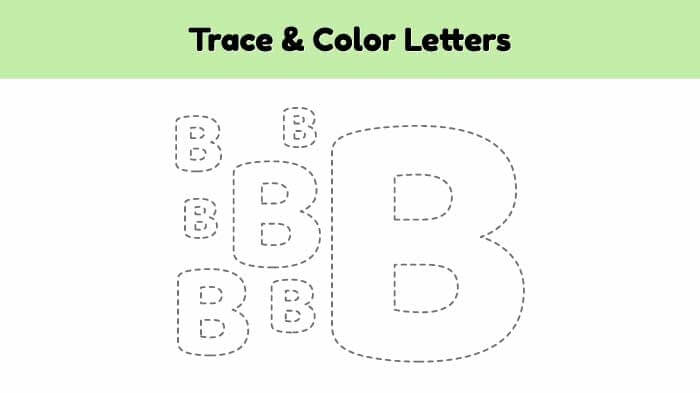 This printable will help your children build proper motor skills and create muscle memory which will later on contribute greatly to their writing skills.
3. Find the Letter
How long will it take for your children to find all the letters?
This game not only builds proper motor skills but also greatly helps increase concentration skills.
With the scientifically approved and awarded MentalUP app, you can have hundreds of different printable worksheets that will support your kids' various skills ranging from memory to numerical intelligence. Don't forget to check out our Pinterest Board for printables, parenting tips, brain teasers, and more!
You can benefit from our extensive and empowering letter identification games. Also, MentalUP provides you with lots of brain-boosting educational games that will help your kids develop.