Pre-K and kindergarten students love to play games and participate in activities. For that reason, alphabet activities for preschoolers are the most ideal way to teach them their ABCs.
With the proper alphabet recognition games for preschoolers, you can teach them letters, basic spelling, and even some vocabulary! In this article, you will discover the most amazing DIY projects, free online alphabet games, and many more that will contribute to teaching your children the alphabet. Go ahead and give them a try!
Online Alphabet Games
Help your child practice and play with MentalUP's free online alphabet games!
Alphabet Activities for Preschoolers
Here are some fun activities that teachers can use at nursery school or classes and which parents can easily apply at home. These abc games for preschoolers are not only highly educational and effective but also plenty of fun!
Printable Alphabet Activities
If you are looking for free alphabet activities, printables will do the job. Explore these printable abc games for preschool that will help your children learn in the best and most fun way possible!
You can access them all from our Pinterest Printable Teachers' Tools Board.
1. Vocabulary Printables
These vocabulary sheets are perfect for parents and teachers that want to teach children with abc games for kindergarten free!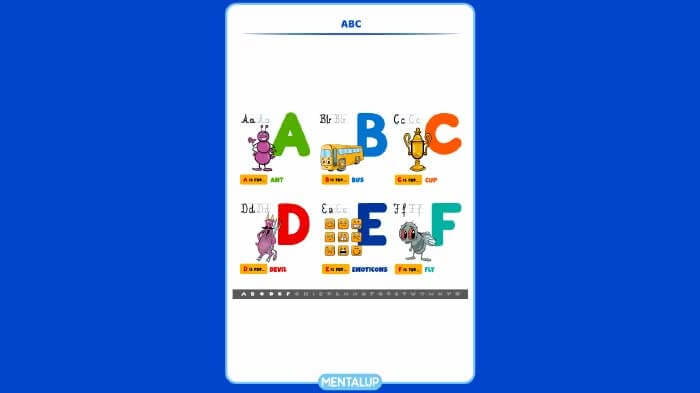 With these printable preschool abc games, you can teach them how to pronounce and write the letter while helping them learn through associated pictures.
2. Handwriting Practice Printables Worksheets
Handwriting is a tough task for many children. These printable and free abc games for preschoolers promote your child's motor skills which will help them enhance their writing skills!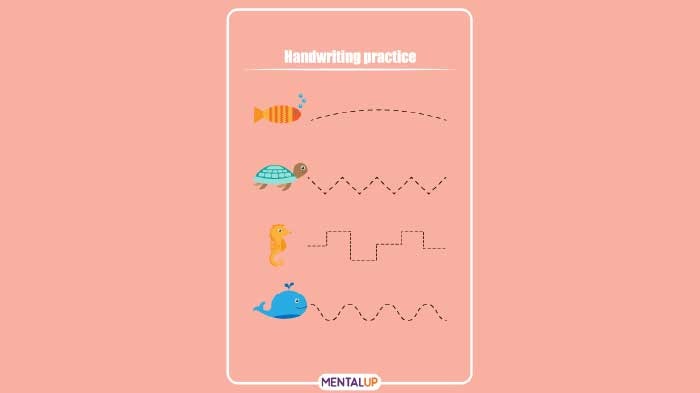 All your child has to do is follow the dotted lines! This preschool abc game activity will help build proper motor skills, which will make it easier to learn to handwrite.
3. Alphabet With Sounds Printables
Alphabet writing games for preschoolers are more effective when you incorporate different senses into the teaching process. These printable and free abc games for kindergarten will activate your child's sight, hearing, and touching senses.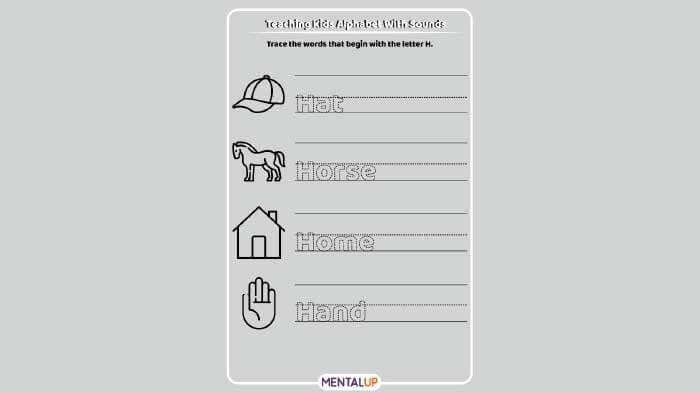 First, pronounce the letter and the word next to it. Ask your child to repeat after you. Then, have them trace the dotted words.
MentalUP, which is among the best alphabet apps for kids, offers hundreds of different printable worksheets that will support your kids' various skills. Don't forget to check out our Pinterest Board for printables, parenting tips, brain teasers, and more!
You can also benefit from our wide range of interactive alphabet games for preschool-aged kids alongside other brain-boosting educational games such as telling time games. Scientifically approved MentalUP, which is among the best apps for 4 year olds and all preschool kids, provides your children with both fun and improvement.
DIY Alphabet Activities
DIY alphabet games for preschoolers are always fun and exciting! Try these beneficial abc learning games for toddlers free!
1. Alphabet Letter Lids
It is actually amazing how many bottle lids we have in our houses. Here is a great way to recycle them as learn abc games for kindergarten!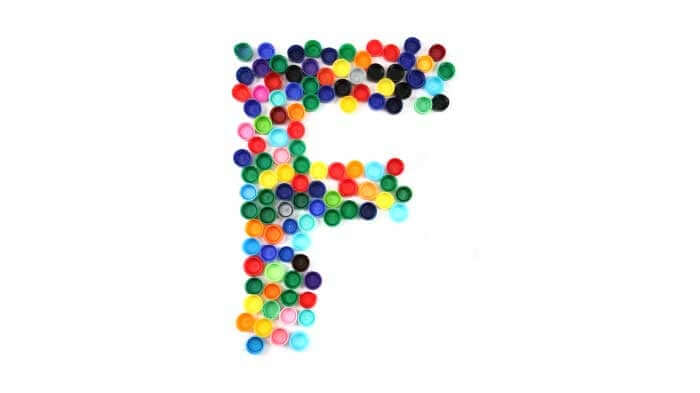 For this activity you'll need:
Plenty of lids (52)
A permanent marker
First, sort out your lids as small and medium/large-sized groups. Pick out 26 lids of medium/large-sized lids (one for each letter) and write down the uppercase letters inside with a permanent marker.
Then, pick another 26 lids of small-sized lids (one for each letter) and write down the lowercase letters inside with a permanent marker. After you have a total of 52 lids with both uppercase and lowercase letters, put them in a sack or pillowcase and mix them up.
Ask your child to sort out the uppercase letters correctly. You can sing along to the ABC song to help. Turn this into an alphabet small group activity for preschoolers by giving the lowercase letters to one group and the uppercase letters to another and asking them to be the first to align them correctly. This is one of the best abc games for pre K!
2. Letter Cups
Putting your children under pressure to read a word or a letter can backfire; however, if you encourage them to do so via alphabet games for preschool children, they will be bursting out the words before you know it.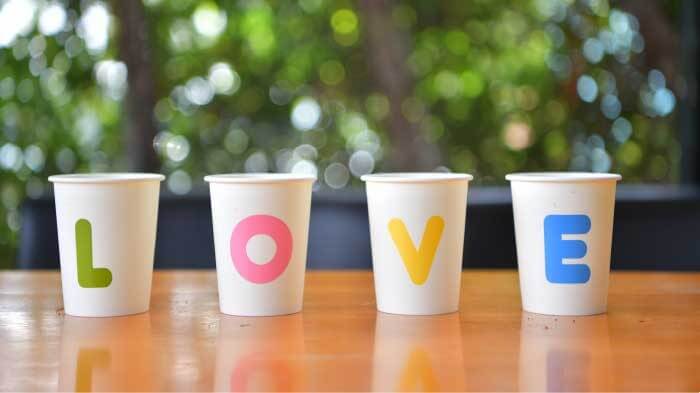 For this you'll need:
A few plastic or paper cups
Alphabet stickers (you can also write down the letters with a permanent marker)
Something to hide (a piece of candy or chocolate will be an incentive)
All you have to do is write down a letter on each cup. You can increase or decrease the number of cups according to the difficulty level you want to set.
Then turn them upside down and hide something under one of them. Ask your child to close his/her eyes and mix up the alignment of the cups. Tell your child to open their eyes and guess under which lettered cup the hidden object is. If they guess correctly, they get to keep whatever is under it.
Tell your child to open their eyes and guess under which lettered cup the hidden object is. If they guess correctly, they get to keep whatever is under it.
They will be so caught up in earning the prize that you will be able to boost their ABCs and memory skills without them even knowing it with this abc alphabet game!
3. Letters in a Shell
We are now presenting to you one of the most practical alphabet matching games for preschoolers. We all love to gather some seashells from the beach as a sweet reminder of the fun time we spent there. Now, you can turn these seashells into wonderful learn abc games for preschoolers.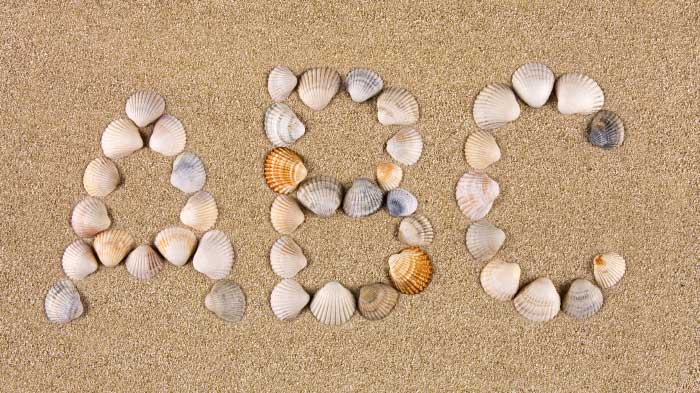 All you'll need for this fun activity is:
52 shells
A permanent marker
A bag of brown rice
Now, simply write one letter onto the inside of each shell, creating one set in uppercase and a corresponding set in lowercase.
Then, mix them up in a large bowl of brown rice. Encourage your child to find the corresponding pairs of upper and lowercase letters.
Alphabet matching games are a very fun and beneficial way of teaching your little ones their alphabet. MentalUP offers the best matching alphabet games through its scientifically developed educational gaming platform.
With its family of 10+ million users worldwide, MentalUP also helps promote your children's writing, reading and listening skills.
Alphabet Board Games
Board games are perfect educational toys for 4-5 year olds for playing on their family game nights. Discover the best alphabet board games that you can play with your preschoolers and kindergarteners!
1. Alphabet Island
This ABC game is perfect for your children to learn abc. There are 2 levels, with the first being more suitable for kindergarteners and the second being more advanced.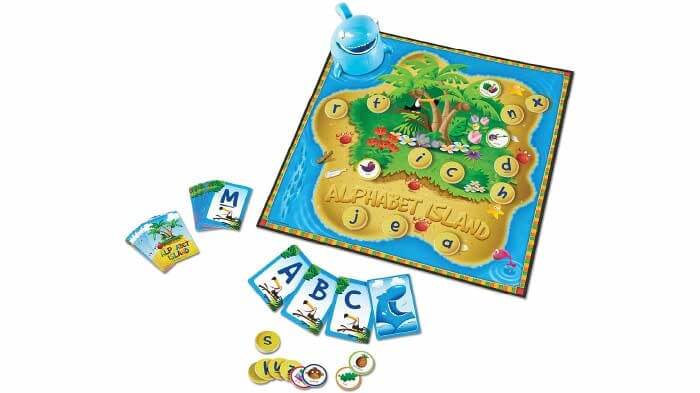 For level 1, kids take turns flipping over a card from the card deck and race to find the lowercase match to the uppercase card.
The first to grab the correct lowercase disc gets to keep it, and the turn ends. The game continues until all the cards in the deck have been flipped. The player with the most discs at the end wins!
There are also some trick cards that, when you flip, you'll have to give one of your discs to another player, or if you're lucky, you'll get to take a disc from someone else.
The second level is the same, but this time you flip the discs over on the board game to reveal the picture instead of the lowercase letter. Players race to find the picture that begins with the letter card that was drawn.
2. Alphabet Bingo
Are you ready to one of the best abc learning games for toddlers? If you like Bingo with numbers, you'll love it with letters! Don't forget that Bingo is one of the top educational toys for toddlers all over the world.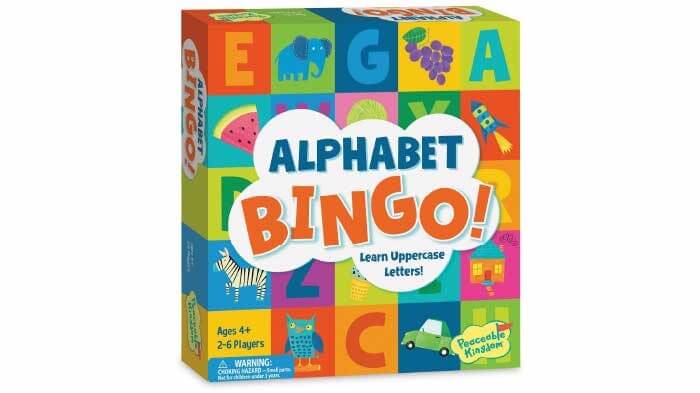 The game rule is almost identical to traditional Bingo. Players pull a token out of the bag and read it out for everyone to hear. Then, each player looks to see if they have that letter on their bingo card. The first player to get four letters in a row wins!
Plus, the letters are accompanied by pictures. This way, children are able to associate letters with items that help their learning process. That's why it's one of the best abc preschool games!
3. Alphabet Marks The Spot Game
Here's a game for your little ones that can't stand still. This game that requires lots of hopping and jumping can be played in 4 different ways. Therefore, your children can learn letter recognition, alphabetical order, letter sounds and spelling all in one game.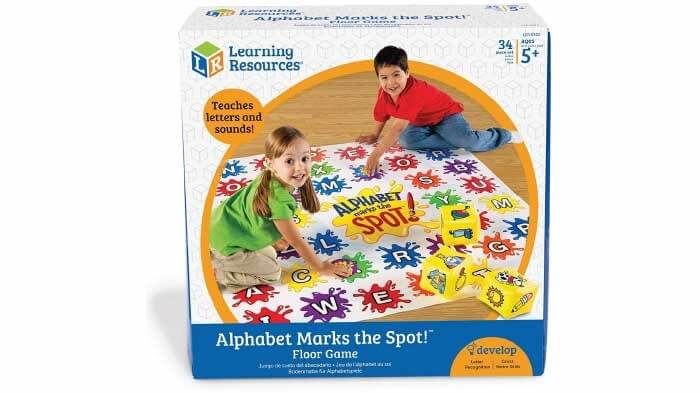 Three out of the 4 games can be played with two or more players, so it works well for families. It is also one of the best options for alphabet games for preschoolers in the classroom.
MentalUP is one of the best preschool apps that offers educational toys for preschoolers that helps develop children's various skills with 150+ learning games.
With MentalUP, not only can you teach your children letter recognition, alphabetical order, letter sounds and spelling, but you can also improve your children's mental development and cognitive skills.