Physical development is one of the most important aspects of kids' developmental process. You can support them with the appropriate workouts for kids and help them to get rid of their stress. We've complied with popular fitness exercise routines for kids.
Fun Workouts For Kids
As far as the children are concerned, parents always want to choose the right sources for their kids. You can prefer to use the list of fun workouts for kids below with peace in mind.
1. Morning Workout
Morning workouts for kids are one of the best options to start the day more actively. You will be surprised when you see the difference this 5 minutes workout provides for your kids.
It is important to choose the appropriate workouts for kids on youtube because some of the videos you can find online can be suitable for adults. These kinds of videos will be boring for children. Unless you give them entertaining alternatives, this can disincline them.
Short and fun alternatives will always be better for kids who need to move and wake up their bodies. Keep in mind that fitness exercises support children's physical development and they need to add this routine to their daily lives.
If you want them to stick to their exercise routine, you can do it together every morning and act like this is a game. Try to start by telling them how this is important, and don't push them too hard. It will be beneficial for them to do this morning workout three times a week.
2. Before Sleep Workout
Sleeping schedules can be a little problematic for both children and parents. Sometimes they don't want to sleep or have a hard time falling asleep. This workout will be your savior.
If you are one of them who want your children to sleep easily, you should definitely try to create a sleep routine for them. Free workouts for kids on youtube might be the best option in this process. Thanks to, gamified fitness exercises, your children relax in a short time.
This before sleep workout is designed especially for kids to fall asleep easily and feel chilled out. It is also helpful for them to stretch their muscles and have fun at the same time. When you allow them to enjoy these exercises, you will see how they sleep quickly.
Don't forget children need to get rid of the daily stress as we all are. This workout is suitable for all levels. Moreover, you can use it when your children need to relax during day time. But it is more effective before sleep as a mindfulness activity.
3. Stretching Workout
Stretching is necessary for our muscles to relieve and develop in a healthy way. This workout will support your children during their developmental process.
You can provide this workout whenever your kids feel stressed, overwhelmed, and tired. Because it is among easy workouts for kids, both older and younger children can do these fitness exercises. Unlike boring long workouts, this stretching workout is very fun to do.
It can be done at home easily on a rug, carpet, or sports mat, but if it is possible, it will be better to do it outdoor. Also, you can prefer to do it together with your children as you can implement it as a group exercise. It will be more efficient if your kids do it daily or every other day.
Relaxing exercises like this stretching workout protect kids from ADHD and help them to avoid social-emotional problems. Don't forget quick workouts for kids to empower their intelligence and increase their appetite to have a better eating routine.
4. Daily Workout
Daily workouts are one of the favorite sports activities for children because they are very effective as they are implemented regularly. Your kids will adore this ten minutes workout.
Because there are both power and stretching exercises in this daily workout, it's one of the best daily cardio exercises for kids. Keep in mind that obesity is a modern disease that can affect all the children and the kids who work out daily are protected from it.
Fun at home workouts for kids like this one support children's mental skills and contribute to their development. It is known that more active kids' memory and logic abilities improve effectively. This way, they can feel calm at school and have a better sleep routine.
If you want your kids to have fun by letting off steam, you can benefit from this daily workout. Because it is one of the best cardio workouts for kids, children who need to lose a little weight can use it easily as it is suitable for beginners.
5. Short Workout
Short and easy workouts are more appropriate when you don't have much time to do exercise. This entertaining one can be done anywhere and anytime by your children.
It is also among the best flexibility workouts for kids. It helps your children to relax their muscles and strengthen their bodies. When you need to find an activity for them to spend quality time, you can use this short and easy workout with peace in mind.
Moreover, it can be evaluated as one of the popular classroom workouts for kids. Teachers want to start or end the class with this kind of workout for kids to have fun and get rid of their tension. It is suitable to do both indoors and outdoor alone or with a crowd of people.
Regular workouts like this one help children avoid focus and concentration problems. When the kids start to do fitness exercises daily, they feel relieved and powerful. Also, keep in mind that they can be more self-confident by just spending a little time for a workout.
The Benefits of Fitness Workouts For Kids
Physical development and a healthy body growth process are very important for children. Their bones, muscles, and connective tissues empower with activities such as workouts for kids and fun exercises for kids. So, you should learn how to get fit for kids and make sure that they do enough exercise daily.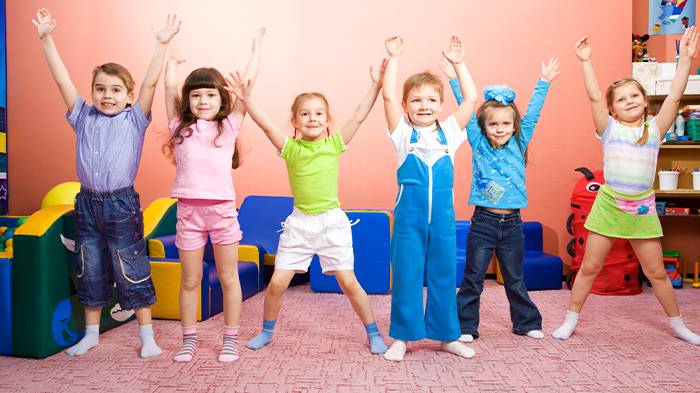 Workout develops children's coordination, balance, and muscle strength.
It increases their bone powers and provides them with healthy physical growth.
It regulates their heart rate and insulin levels, so they can have a better sleeping and eating routine.
Working out functions as an exercise play for children who need to be more active to avoid stress, obesity, and other health issues because of passivity.
It helps them to spend quality time by not having a technology addiction.
When they work out together, kids' social skills develop easily, and they learn to act as a team by moving harmoniously.
Workout is also supportive for them to be better both in school and at home behaviorally.
Easy Exercise Workouts For Kids
You can help your kids to have a joyful exercise routine and encourage them to be active regularly. We've prepared you a suitable workout alternative list to make your job easier.
6. Running
Running is always one of the favorite activities for kids. It is fun and has no rules to follow. You can run freely with your children in a safe space to enjoy the day together.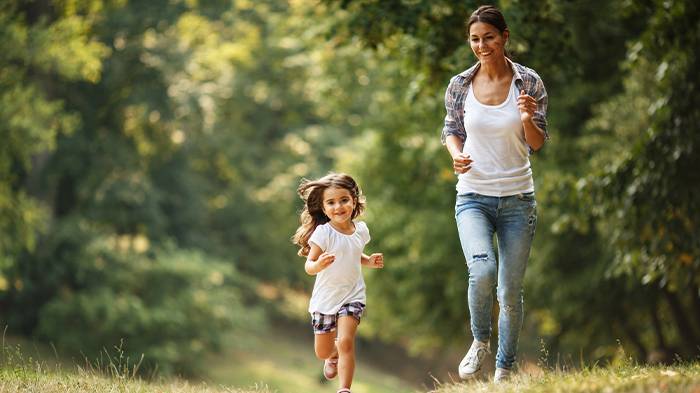 Running is an appropriate workout for both indoor and outdoor. It is one of the simplest and most beneficial exercise alternatives. Moreover, it is very relaxing and entertaining when you need to get rid of your stress with your kids.
This workout can also be used as one of the favorite workouts for kids to lose weight. But you should keep in mind that when our kids are concerned, we don't only need to think about brain-boosting foods because foods are also important to have a healthy body.
You can provide suitable healthy foods for your children who run regularly to strengthen their muscles. Lastly, you can try to combine running with different moves to create an exercise game for the kids to have more fun in this process.
7. MentalUP Fitness
Sometimes, it can be difficult for you to find the right workouts that are suitable for the kids. MentalUP provides children with expansive workout space with its 240+ fitness exercises.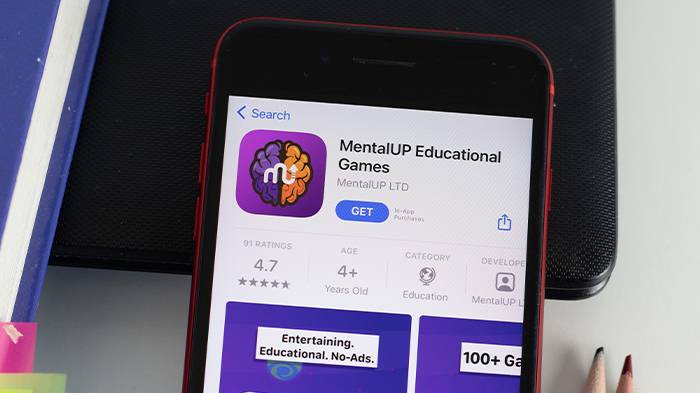 It is one of the best sources that you can reach different online workouts for kids. Because all of these exercises for kids are especially designed by specialists, so you don't need to worry about their level. Your kids can use it anytime and anywhere they want by a mobile phone or tablet.
Also, MentalUP allows you to track your kids' development process with its detailed skill analysis and reports. You can compare their status with their peers to see how their performance is. Don't forget that it is very safe to use because of its no-ads policy.
8. Jumping
Jumping is very beneficial for kids' muscle strength and endurance. It is a very entertaining exercise to do for both to develop children's bodies and let out some steam.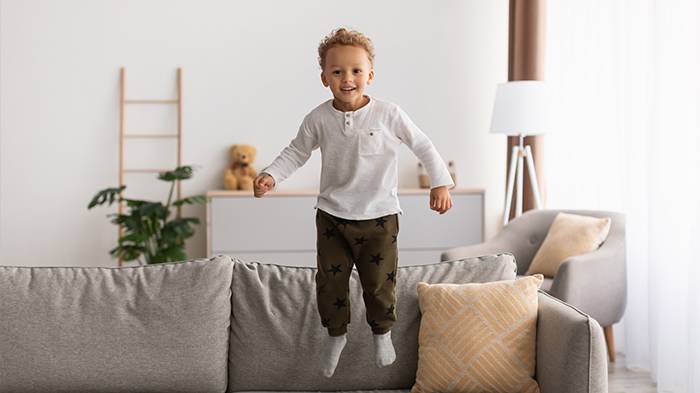 You can combine different moves such as "Jumping Jack, Hurdle Hop, or Criss Cross Feet" and you can play a game together with your kids by doing a supportive exercise at the same time. It is especially better to do this in a park, beach, or outdoor space.
Also, if your kids have friends to do this together, you can define a couple of rules for them to make this a competition. Keep in mind that jumping is one of the most effective leg workouts for kids. In the meantime, it works as a cardio workout to burn calories.
You can prefer to add some arm exercises or dance moves to the jumping routine and help your children to improve their whole body. Moreover, it is known that the kids who jump regularly have a better mind and brain development during their childhood.
9. Ball Games
Ball games such as football, volleyball, basketball, baseball, or simple catch-ups are always popular among children. They love to play these games with both their family and friends.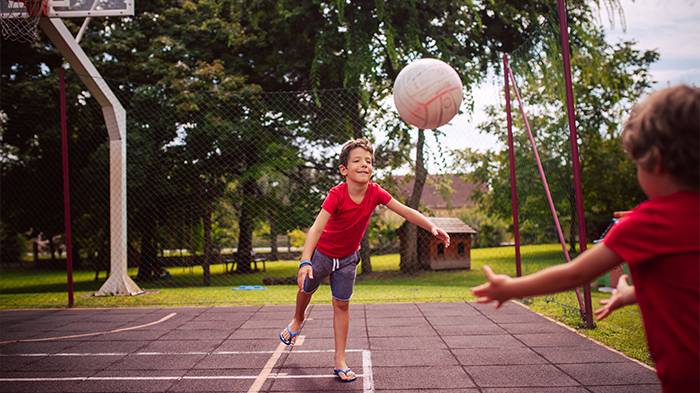 Of course, it is better to play these games outdoors, especially on a court if it is possible. But if it is difficult or unreachable for you, you can prefer to prepare a suitable space at your home. Because all the ball games are one of the favorite workouts for kids at home.
Also, you can help your children to gather with your friends and go to the nearest park to play one of these ball games. This workout supports your kids in building healthy social relationships with their peers and developing their strategic and critical thinking skills.
10. Jumping Rope
Jumping rope is one of the oldest games that is played by almost all the kids around the world. This fun game is also one of the most effective strength workouts for kids.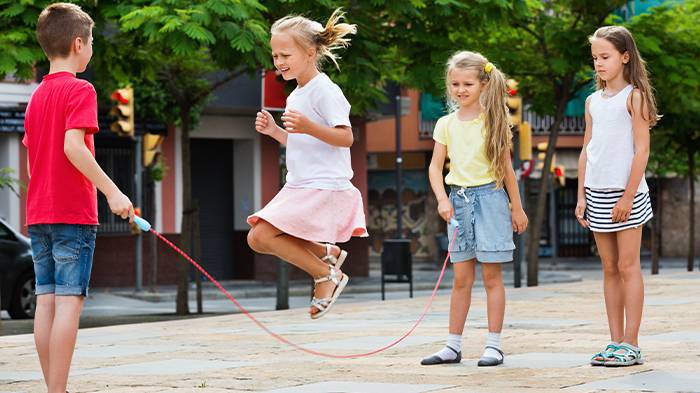 Maybe your children don't hear about this game because the modern world encourages them to spend more time on social media. But your children will adore this entertaining gamified exercise when they learn all about it and want to play it regularly.
Firstly, you need to tell the rules to your children if you play this game with a group of people. Otherwise, jumping rope alone is a simpler workout to do. So, you can just prefer to play before any other preparations by taking an appropriate jumping rope.
Keep in mind that jumping rope is both good for the upper and lower body of children. It is also very effective to empower balance, eye-hand coordination, and strengthening muscles. It is better to do this in a park with green fields because there is a risk of falls.
11. Obstacle Course
Obstacle course is another way of doing fun exercise. It can be done indoors or outdoors if you prepare all the necessary equipment. You can use the suitable stuff at your home.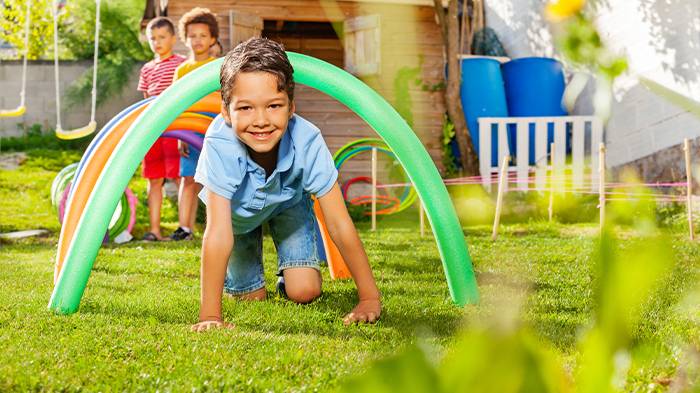 When you need a safe play environment that your children can work out and entertain at the same time, preparing an obstacle course can be a very good idea. Don't forget it also develops your kids' problem-solving and logical thinking skills with its different paths.
Obstacle courses are like puzzles, but we need to solve these by playing the game by strengthening our muscles. You can prepare the course with children to enjoy the whole process, and the more you use your imagination, the more this fitness exercise will be interesting.
12. Yoga
Yoga is one of the most relaxing activities that you can do with your children. You can join a kids' yoga class or try to do it at home by using virtual workouts for kids.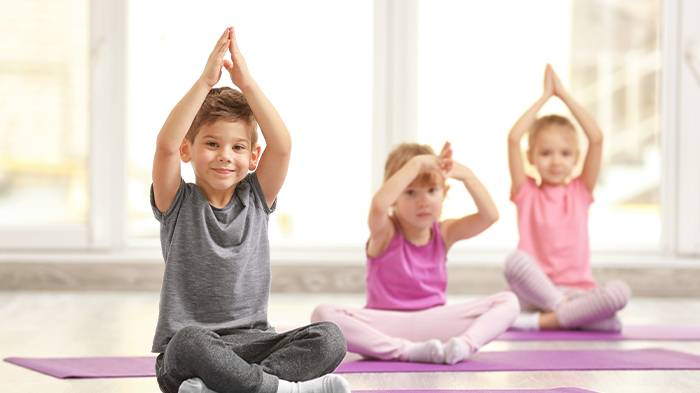 Yoga is not only useful for your children to feel calmer but also it is very supportive for their physical development. If it is possible, you can create a proper environment for this activity. This way, you can be sure that they aren't bored while they are doing yoga.
You should start with fun and easy poses for your children to adopt this different exercise. Keep in mind that kids are more flexible than adults, so they might really enjoy this activity by stretching their bodies. Yoga can become a hobby for your whole family in the end.
When they start to do yoga regularly, kids' muscles will strengthen and be more healthy. Also, it can be better to tell them a little bit about yoga's philosophy and let them understand this mindful workout. Don't forget to include warm up games for kids and cool down poses in your lesson.
13. Bear Crawl
Bear crawl is a very popular sports game among kids. You can use it as one of the most fun pe workouts for kids. It is suitable to do at school, at home or in a park outside.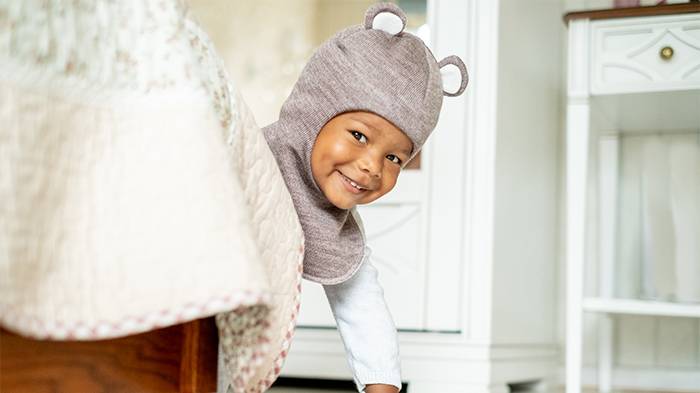 You need to tell the rules of a bear crawl if your children don't know about it. The bear crawl is a walking that can do on the arms and legs. You need to face your belly into the floor during it. You should define the time and course according to your kids' age and level.
This exercise is very beneficial for the whole body. It powers the muscles up and develops the bones in a healthy way. If you need upper body workouts for kids that also support their lower body, a bear crawl might be the best option. It can be done alone or with a team.
Moreover, you can prefer to turn on the music to have more fun. It is very simple because you don't need any equipment and it is appropriate to do at home. You just need a proper space to crawl, and you can let the fun begin at any time, anywhere you want.
14. Skipping
Skipping is actually a movement that is similar to both running and jumping. The trick is to do these activities at the same time and enjoy this happy workout at home or outdoors.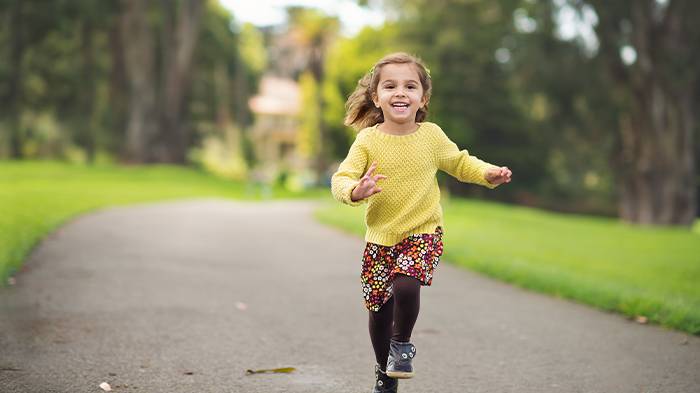 Because kids like to skip, it will be very easy for you to create a gamified exercise by using this movement. If you want to complicate this aerobic activity, you can use a hopscotch board that is sold ready-made or designed with chalk. It is more fun to play this game outdoors.
Moreover, if you need another alternative that can be done at home, you can prefer to play tag by skipping as a whole family. This activity is almost the same as classical playing tag, but you need to skip instead of running or walking. It will be better to play it as a team.
15. Swimming
Swimming workouts for kids are one of the best activities for them to develop their balance and coordination and increase the power of their whole muscles. It is also very entertaining.
You need a proper environment for this exercise, so you should register your children in a swimming pool, or you need to take them to the sea. But it is important for them to learn swimming first. You can make the arrangements according to your children's needs.
Swimming helps children to understand water safety, have a healthy cardiovascular system, strengthen their lungs, develop endurance, improve muscles, and support them to own a better sleeping and eating routine. Also, it is beneficial for their right-left brain development.
Tips For Working Out With Kids
You can think that the most important thing is to choose the best workouts for kids, but before starting to do exercise with the children, you need to consider a couple of points such as defining the rules, time, and preparing the space. Let's take a quick look at these tips!
First of all, you need to choose easy and short workouts for your kids. You can also prefer to break it into small segments. You need to be careful that the exercise is entertaining. If it is possible, use outdoor spaces. Make a plan before and be flexible when encouraging them.